RCC Receives Over $1.2 Million from the U.S. Department of Commerce/Economic Development Administration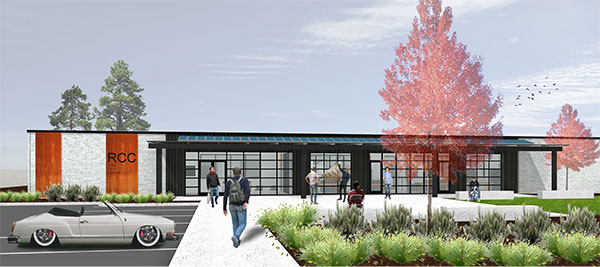 Rogue Community College (RCC) received last week a $1,246,870 grant award from The U.S. Department of Commerce/Economic Development Administration (EDA) to help create a High Technology Training Center. The grant, which is pending approval from the RCC Board of Education, would go toward renovating an existing building adjacent to the College's Table Rock campus in White City.
When completed, the new center will train skilled workers in manufacturing/engineering, welding, and high technology, and provide a maker space to help serve the research and development needs of companies and entrepreneurs in the region. According to the grant proposal, the project is expected to create 77 jobs, retain 59 jobs, and generate $2.15 million in private investment.
RCC President Cathy Kemper-Pelle noted that the funding was essential to the success of the project, and that U.S. Senators Jeff Merkley (D) and Ron Wyden (D), and U.S. Congressmen Greg Walden (R) were all very helpful in the process. "Southern Oregon's Congressional delegation provided crucial support in the final phase of EDA grant approval," she said. "We thank them and their teams for putting a priority on training and education for southern Oregonians."
In response to the news, Merkley said, "Increasing access to community college not only puts students in a better position to obtain a bachelor's degree or higher, it also creates opportunities for students to pursue careers in high-demand fields that require occupational training. This $1.2 million investment in Rogue Community College's Table Rock Campus will position Oregonians to train for good, high-wage jobs — an asset to the region and our entire state."
Walden called the grant a "sound and timely investment," adding "RCC will create a state-of-the-art advanced manufacturing and welding technology facility, providing graduates with the required skills and experience needed to get, maintain, and advance in well-paid manufacturing jobs." Walden noted it will also be a boon to Rogue Valley manufacturers. "Their industry will benefit from the innovative and collaborative experience of working directly with RCC staff and student-workers to bring this program and product ideas to fruition," he said. "I commend RCC for its efforts to improve employment and foster industry in the region."
Wyden also praised the grant. "I am pleased that Rogue Community College has earned this well-deserved grant to support its essential training of men and women for jobs in manufacturing and welding." That training supports a diverse and strong economy, Wyden said, adding, "Providing these crucial job skills helps southern Oregon to build on what has already been achieved."
RCC plans to break ground on the High Technology Center this summer with an expected completion date in winter 2018. All funding for the center comes from the EDA grant, a $250,000 equipment grant from the Meyer Memorial Trust, other smaller grants, and the $20 million bond approved by southern Oregon voters in 2016.
To learn more about the High Technology Center visit http://roguecommunity.net/work-has-begun/.
For more information about the EDA grant, contact Mary O'Kief, RCC grants development coordinator at mokief@roguecc.edu or 541-245-7915.
###
N17-037